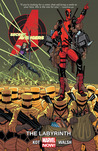 Secret Avengers, Vol. 2: The Labyrinth by Ales Kot
My rating: 4 of 5 stars
This is such a fantastic comic, and I give all the credit to Ales Kot. I haven't read a ton of stuff by him, but everything I have read, I've loved.
He even managed to make a volume of Suicide Squad not suck. So, it goes to figure that if you hand him an actual cool team, he could make it rock. And he does.


And Michael Walsh's art is just the perfect compliment to this story. It's that kind of trippy, blurry, scratchy stuff that I didn't always enjoy, but it's really grown on me over the past few years.
The highlight for me was the stuff with Deadpool and Hawkeye. Deadpool's self-aware banter breaks the 4th wall constantly during this one. He has some of the hands-down best lines in this thing!
So this time around the Secret Avengers are all scattered across the globe. Coulson (maybe) has PTSD and has wandered off, Hawkeye is tracking Coulson, Jessica is being introduced to some of Maria's secrets, Fury is in a coma, and Black Widow is…in another dimension? And how does Deapool fit into all of this? Well, you'd have to ask M.O.D.O.K..
Ok, the plot is just…wacky. There's no need for me to go into any details, because it won't make a bit of difference. The real fun is in the way Kot writes the dialogue between characters.
Now, I will say the the last couple of issues seemed to run off the rails a tad, and the (already) nutty storyline got a bit too screwy for my taste. It's the only reason this didn't make it into 5 star territory for me. Even so, I'd recommend this title to friends in a heartbeat.
Especially if they were looking for something a little different.