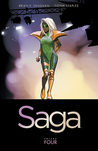 Saga, Volume 4 by Brian K. Vaughan
My rating: 4 of 5 stars
4.5 stars
WARNING: Potential Spoilers Ahead!
You can really see how this family is going through the growing pains in this one. And, once again, Vaughn and Staples create a fantasy world that is so incredibly not fantasy.
This volume? This is a real marriage.
Can we please fight about it in the morning?
Ok, so now that they aren't running for their lives, the mundane existence of taking care of a family sets in…as it does with a lot of marriages.
Alana is working full-time as an actress on this space soap opera, and Marko is staying home with Hazel.
First comes love, then comes marriage, then comes a baby in the baby carriage…
But they don't tell you what happens after that, do they?
Yep. You aren't really married till you've practiced your alibi in the mirror, at least once. Now, at some point, you'll both laugh about how you ran into each other at Home Depot, looked into each other's shopping carts, and saw that you were both buying tarp and duct tape.
But till then, you'll go through that rough period known as:
Those Couple Of Years We Gutted It Out For The Kids.

Continue reading →