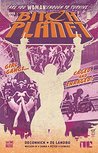 Bitch Planet, Vol 1: Extraordinary Machine by Kelly Sue DeConnick
My rating: 4 of 5 stars
So, I loved the feminist slant, and I loved the in-your-face attitude of the comic. Especially the stuff about body image. LOVED IT!
But as far as the actual plot went, I was a little disappointed.
Maybe because I'd read so much hype about this one? I'm just not sure.

In dystopian future women are arrested and imprisoned for being non-compliant. Just about anything from being overweight to outspoken can result in incarceration on (what is commonly called) Bitch Planet.
There's lots of nudity in this, but it's not the kind that pays service to drooling fanboys. It takes all the Women in Prison movies, embraces them, and then turns them on their ear.
Even the obligatory sexy shower scene, gets a brand new twist.
Although, the best part (to me) was reading all of the hilarious advertisements in the back of each issue. Make sure you don't pass these up!
Spicy Cinnamon Taco douche…for the girl adventurer!
And that's where this volume shines. It was all the small things that it called BULLSHIT on, that made such a huge impact on the story. These are the things that women are told to worry about every day!
Does your vag really need to smell like some sort of a chemical flower? I'm gonna step out on a limb, and say…no.
It deals with different body types, weight, color, and the general diversity in women, but it also deals with the attitudes towards women with…um, attitude. If you're outspoken and opinionated does that make you a bitch? Yeah, maybe. shrugs
But is that a bad thing?
Again, going out on that limb to say…no.
Alrighty, as far as the story?
A group of these Bitch Planet prisoners are going to compete in some sort of game, as the Female team. It's apparently being done to add spice to this Olympic Gamesish competition (Of course, the deck is stacked against them, there's a conspiracy with the higher ups in government, and public opinion is not in their favor.
But the ladies may be able to make a statement (and/or kill a bunch of people in charge) if they make it to the final round of the games.
I THINK.
Hopefully, I'll get the opportunity to keep reading this one, and maybe by the next volume the main plot will be a little more defined.

Overall, though, I thought the message in this was very cool. Recommended for boys and girls of all ages over 18.
I received a digital copy from NetGalley and the publishers.