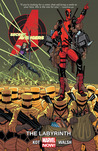 Secret Avengers, Vol. 2: The Labyrinth by Ales Kot
My rating: 4 of 5 stars

GIRL FIGHT!!! This book opens with a shirt tearin', bra strippin', throw down for the ages…Ok, so maybe there are no bras getting pulled off, but boy do Black Widow and Lady Bullseye have at it. There's enough fish-hooks, eye-gouges, and hair pullin' to put a smile on this old man's face anyway. MODOK likey.
Hawkeye goes lookin' for an M.I.A. Agent Coulson and runs into a super-fan by the name of Wade Wilson. Some of my favorite moments in this one are Kot's take on Deadpool. Ales doesn't just do a good job with the Merc with a mouth, he crushes it. Over the top redonkulous 4th wall smashin' fun and absolutely perfect.
That's not all….MORE MODOK!! He's almost as funny as Wade and his evil plan is finally starting to take shape. Love him.
Spider-woman goes on special assignment, Maria Hill does her best Nick Fury impression, and the real villain finally steps out of the shadows and into the light.
Kot's weirdo writing sensibilities and oddness really come through in this book. But not in the overly obscure manner that it does in some of his lesser known work. Definitely much easier to digest than his image title Zero.
Michael Walsh's art remains as amazing as it was in Volume 1. Scratch that, it's even better. Mike manages to communicate so much emotion with his simple style. NO ONE has ever drawn the Ultimate Warrior so good. Mix in Matthew Wilson's colors and BLAM!, great stuff. Tradd Moore's covers rock too.
Kot's unusual storytelling won't work for everyone, but for me, it's spot on. Plenty of action as well. Throw in Walsh's artwork and this book's a lock for one of my all-time favorite Avenger titles. Read it!