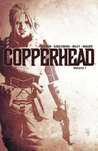 Copperhead: Vol. 1 by Jay Faerber
My rating: 3 of 5 stars

Few genres lend themselves to one another as well as westerns and science fiction. They've been blended together with significant success on numerous occasions via a wide variety of entertainment platforms. Jay Faerber and Scott Godlewski are definitely on the right track to follow suit with their initial installment of Copperhead.
I'd say both creators were pretty much spot on in combining the timeless western rudiments of a lonesome town, a shady business tycoon, and unfriendly locals with the conventional sci-fi tenets of a distant planet, artificial intelligence, and frightening aliens with this book. I started liking Clara Bronson almost right from the start. Clara's the new sheriff in town and she's smart, self-reliant, and tough as nails. My kinda girl.
Couple of members of the supporting cast were pretty cool too. The lone deputy, Budroxifinicus and the hermit, Ishmael being early favorites.
Scott Godlewski's art is pretty good. Being more a fan of heavy inking and thick line work, it took me a bit to warm up to him, but he won me over by the end. Really liked a few of his character designs.
While Copperhead is a bit cliché' and not especially original, the creators have done a good job of building their world and creating believable characters to live in it. I think Faerber's pacing is well balanced in that he gives you enough to easily follow the story while keeping you curious by leaving a couple of questions unanswered. I also like that he includes a strong female lead in this one. Image Comics has been at the forefront of the industry in creating strong, complicated women that don't need to run around in their thongs to be interesting. Although, I'm going on record as not being opposed to the occasional thong. This one's a recommend if either of these genres is your bag.