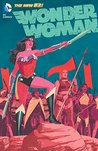 Wonder Woman Vol. 6: Bones by Brian Azzarello
My rating: 4 of 5 stars
It's official. The First Born has earned a permanent place among the most depraved villains the DCU has to offer. He is just a one fucked-up, twisted son of a bitch. Cassandra finally gets what's coming in this one. I almost felt bad for her. What is it with all the eating each other? And I don't mean that in the fun way. F.B. follows up by remaking Olympus to his liking and then starts his crusade to destroy the remaining Greek pantheon. Wouldn't wanna be'em. And come on dude, she's your half-fuckin-sister.
Poseidon and Hades seem to have formed a fragile alliance trying to figure out a way to stop the First Born or at least save their own skins. Diana and her friends have retreated to Paradise Island to regroup after the bloodbath at end of the last volume. Wonder Woman knows that there is little hope of her standing against this monster alone. Luckily, she has friends, and the god of War starts putting together a plan to finish the First Born's reign atop Mt. Olympus.
Some favorite moments include Cassandra's penance in Hell, Strife's change of heart, the final clash between Diana's and F.B. armies, and a long-time companion is revealed to be much more than first thought. A couple of other surprise appearances by some other characters from earlier in the story.
Another but-ton of great artwork provided by my main man, Cliff Chiang. What a fantastic job he, and all of the other contributing artists, have done on making this title work for me. Loved it start to finish.
Although I think the ending itself was somewhat predictable, I really don't have any idea what Azzarello could have done differently to improve upon it. As always seems to be the case with all my favorite stories, it's the journey that makes the tale an epic. Please don't misunderstand, there was LOTS to love and a bunch of surprise twists that shocked right up to the very end. Azzarello left just enough loose ends to allow the next guy to build upon his foundation should they choose (sadly, it doesn't look like they did) and answered enough questions for it to satisfy. Overall, Brian's run has earn a spot alongside my other all-time favorite titles and I never thought I would ever be saying that about a Wonder Woman book. Thanks to Brian and all the great artists that contributed along the way to this GREAT story.
P.S. I told Anne I would hook her up after the selfie I posted in my last review failed to impress. Well, here ya go Anne, just like I promised. He's Thor at least(and he's got the "Hammer" to prove it).