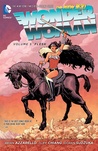 Wonder Woman, Vol. 5: Flesh by Brian Azzarello
My rating: 2 of 5 stars
First Pink Taco Buddy Read…! (Kudos to Katzoo on the graphics!)
Underwhelmed.
It's more of the same shit, different day. I guess I mistakenly thought that the end of Vol. 4 had somehow resolved one of these issues…but not so much, also everyone acts the same, and BirdfacemanBlueGuy makes a great point, that WW is totally willing to accept Hera now that she's mortal, even though she's done some VERY BAD SHIT, but that apparently his one betrayal which turned out to be for the greater good is totally unforgivable? BINGO.
Then there's stupid shit about people asking Diana if she's going to keep being so trusting of people and she says something like yes, of course, it's in my nature to expect the best from people…umm…have you met yourself in the Justice League? Cause you AIN'T the same broad.
The art is very colourful, but goes between OK and un-tolerable at points. The Olympian Greek Mythology Garbage is getting old. VERY OLD.
On a positive note, I was happy to see Orion turn up again, which gives us one of the few interesting dudes, yet he's woefully underused, and meant to act the douche.
Why do we have to see the same fights, and exactly what we wanted to see (Diana become the God of War, which technically she did at the end of Vol. 4) never even happens slightly until the last pages/panels.
Also, how did Apollo take over Olympus if he's so GDMF DUMB? And why does Dionysus still look like a Lesbian version of Gambit?
I'm sorry, there's TOO MANY SIBLINGS of Wonder Woman.
Without the last few pages of the last book, and a bit of Orion, this is a 1-star book for me. I just don't like it and I have no idea why I keep banging my head into the wall with it? Only for the Shallows.