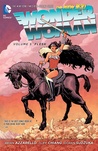 Wonder Woman, Vol. 5: Flesh by Brian Azzarello
My rating: 5 of 5 stars
Thank you NetGalley for a digital copy of this book!
Well it's no surprise that I absolutely loved this volume as I was pretty vocal that I loved the previous volumes too. Azzarello and Chiang really carved out their own little pocket in the DCU and their not letting any of the usually DC heavies in. There must be a giant sign on the door saying "NO FUCKING CAPES ALLOWED"
I'm really surprised the DC bigwigs allowed this to happen but it's a better book because of it.
This volume slows down a bit and really shines some lights on some of the main players motivations and schemes. The second half of the volumes starts to ramp up the action and again were left with another giant cliffhanger as another all out battle for Olympus is looming. Also there is a First Born origin story from the Villains Month issue which was done well but I'm not sure it needed to be told in the first place, kind of liking keeping him more mysterious.
I've heard the rumors that a new creative team is coming in and I've read some interviews on what they've got planned and it doesn't interested me in the slightest. That said looks like Azzarello and Chiang will get to finish this arc and I have full confidence in them to delivery an epic finale to their run on this title.